Welcome back to Top 5 Tuesday, hosted by Shanah @ Bionic Book Worm! This week's topic is something a little different: the top five books you've bought because of the cover. Everyone tells you not to judge a book by its cover, but what happens when you do…?
Without further ado, here we go!
William Shakespeare's Star Wars: Verily, A New Hope by Ian Doescher
I mean, just look at that cover. I'd never heard of it until I started working at the bookstore (and, luckily, I was working at said bookstore when the majority of them came out, too!) and I fell in love with the style. I'm a huge Shakespeare fan, even if I can't recite passages by heart and don't know the titles of all the pages, etc., and I'm a HUGE Star Wars fan (I mean, just look at yesterday's post!), so I knew this was going to be the book for me.
I'm happy to announce that this series is fantastic. I own all seven volumes now, and can't wait to get the rest when they come out. If you never thought that Shakespeare and Star Wars could go so well together, this series is very glad to prove you wrong.
The Alchemyst by Michael Scott
I'm a huge fan of arcane symbols on book covers. There's something about them that draws me to it, and I usually can't resist taking the book off the shelf and figuring out what's going on with it. This particular book series drew me in with the name Nicholas Flamel on the cover, too. If that name seems familiar to you, let me tell you why: it's the name of the man who supposedly created the Philosopher's Stone, known to many US readers of Harry Potter as the Sorcerer's Stone.
I will say this book is solidly meant for the teen audience. There are some things in it that, reading over it now, makes me cringe. But that's to be expected of a lot of teen-oriented stuff, isn't it? I have not read the last book in the series, but I will say that I thoroughly enjoyed this series. And isn't that cover pretty?
The Language of Thorns: Midnight Tales and Dangerous Magic by Leigh Bardugo
I picked this up entirely on a whim a few weeks ago, and proceeded to absolutely devour it in one night. You can read my entire review here, if you want, but trust me when I tell you these fairy tales are worth rereading. You can see some similarities between these tales and their source materials in Grimm's fairy tales, but these are, in a word, refreshing. I don't use that word lightly, either. I picked up this book solely because the cover was shiny and the inside was even more gorgeous. (And don't get me started on what's underneath the book jacket!)
Artemis by Andy Weir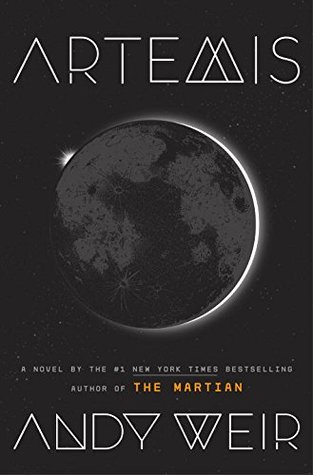 Now here's where things get a bit messy. This book looks absolutely gorgeous. That cover is incredible; I love the simplicity of the design. I love the way they've designed the title font. However, I don't like the book itself.
You can read my full review here, but it basically boils down to how terribly written the main character is. Some people will come after me and say, "Well, if she was a guy, her behavior would've been acceptable!" And to that I say, "NO. FCKING. WAY." The astonishing immaturity of the main character would've made me hate them whether they were male or female. The gender of the main character doesn't matter. It's the irresponsibility, the immaturity, and the appalling lack of depth to them. I loved The Martian, but I don't think I'll be getting a paper copy of Artemis; I'll let it linger on my Kindle shelf until the end of time.
The Dollmaker of Krakow by R. M. Romero
This is an ARC I picked up a few months ago and read in about two days (it would've been shorter, but I had to work). When I selected it, I had no idea that it was a children's book, but the writing level soon made that clear. Despite that, the book itself is very well-written. There are a few instances where I wish the author had done a better job of explaining things, but for a book to be written about World War II, and what happens to the Jews during that time, it does not pull any punches, even though the target audience is young. You can read my full review of the book here, but let me tell you that the pretty cover hides a lot of dark secrets behind it.
So there you have it! My five picks for this week. Have you picked any of these books up on a whim, solely due to the cover? What did you think of them? Do you think you'll give these a shot, too? Let me know in the comments!
And as always, keep reading.