Welcome back to Top 5 Tuesday, where this week's topic deals with something I hate: summertime. (Thanks, Shanah.)
Don't get me wrong: summer is great when you're in school. You're younger and can handle the heat better. But do you know what summer is once you've graduated and gotten a full-time "adult" job? DESPAIR.
I'm talking I can't even walk from the front of my building to my car without almost melting into a puddle on the sidewalk. I hate the beach, so that's a summertime activity that most people do that I do without. Yesterday, for example, the heat index reached 102* and there was a heat advisory in effect. I don't want to live somewhere where walking outside might kill you, but I also don't want to leave the place I've lived for the past eleven years. (Also, side note — wow, eleven years!)
Today, we're looking at the top 5 summertime reads I'd recommend. To me, I feel like a summertime read is different from a beach read: a beach read is something light that you don't have to think very hard about, while a summertime read is something you can get lost in because you've got the time. Ready?
Inkheart by Cornelia Funke
I know you've read my Inkheart review at some point in the past, where I said that Funke would've done so much better had she stopped after this book. I still believe that. The sequels, in my mind, don't exist, even though I've got them on my shelf and I've read them several times over (each time hoping they'll get better — spoiler alert, they don't).
However, I will maintain that the original Inkheart novel is something everyone should read. While Meggie might be a bit annoying at times (you have to remember, though, what she's going through and how old she is and how isolated she's been her whole life), ultimately this is a story about change. It's a great story to read under the covers at night, hoping against all odds that the good will triumph over evil. Give it a shot!
The Hobbit by JRR Tolkien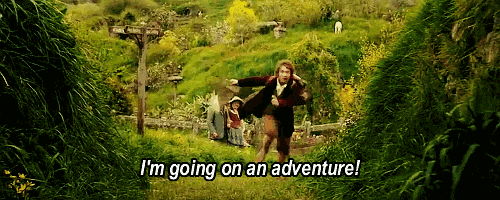 What better book to read while on a summer road trip than The Hobbit? It's the ultimate travel journey. It's also great if you don't feel like you're quite ready to hop on The Lord of the Rings. I thought about putting that journey book in here instead, but decided I've put it on too many and haven't given The Hobbit the love it deserves. The Hobbit is also a lot easier to read than its sequel novels, because it was originally written as a children's novel. It's fun, light reading that most people can enjoy. My mother liked it, and that's saying something!
If you're looking to transport yourself to another world, why not try Middle-Earth? It's always been there to welcome me back, time and again. I'm thinking it's time for me to read this again, too…
Redwall by Brian Jacques
Or any of the other Redwall novels. There are over twenty of them, and they're not sequential. This is a great way to escape from your normal world, into a world of fantasy that's not too far off from something that could have occurred in our own human pasts.
You'll grow to love the characters and learn their peculiar ways of living. You'll probably struggle with mole-speak at first, but it gets easier as the time goes on. (That's probably why I couldn't get into these books as kid, to be honest.)
These books are a little more violent than your average kids' book, but it's a great read. (Psst: did you know there's also a Redwall TV series and all of them are available on YouTube? They actually follow the books really well!)
A Walk in the Woods by Bill Bryson or Wild by Cheryl Strayed
Did your parents ever shoo you outside to play during the summer because they couldn't take you being inside for even another minute? (If they never said the reason, now you know the truth.) A Walk in the Woods is a travel narrative by Bill Bryson, and it covers his time on the Appalachian Trail. I've been interested in hiking parts of the Appalachian before (and if Steven & I end up together forever, we might just do that at some point in the future…), but I never realized how serious of a thing it was before I read this.
If you're looking for something with fewer fart jokes, check out Wild by Cheryl Strayed. Strayed is not her real last name, but she changed it after a significant event in her life. This is about her journey across the Pacific Crest Trail, a world away from Bryson's struggle through Appalachia. Strayed has to deal with crossing deserts, as well as the Rockies, which are harder and more unforgiving. She survives it, though, and I learned a lot from it.
I put these two books together because they each deal with the same thing, but have wildly different authors and experiences. These two travel narratives really forced me to come to terms with the fact that I haven't really done anything solely 100% for me yet, and I'm hoping that at some point, I'll be able to do so. I probably won't do anything as crazy as hike through the Smokies in the dead of winter, but hopefully, maybe, I'll be able to get a little bit into that.
The Lightning Thief by Rick Riordan
Man, here's a flash to the past. A few years ago, all anybody would ever talk about was Rick Riordan, and now I feel like he's fallen a bit to the wayside. He tried to do too much and branch out too far, and the tree limbs are beginning to come tumbling down and around his head. I've read the original Percy Jackson series as well as the Red Pyramid series, but couldn't get into any of the books after those. It's like the spark that he originally had in the first Percy Jackson series is missing.
The events of The Lightning Thief (as well as the rest of this series) takes place during summer camp, at Camp Half-Blood. What's more summer than reading about the zany adventures of a bunch of demigods at a supernatural summer camp? I can't think of anything, so seriously — what's more summer than this?
I actually will read this book this summer, because it's a part of my thesis reading list and I can't afford to get behind any more.
So what do you think? Have I picked some summery books, or have I just thrown together anything that vaguely mentions travel and growth, hoping that someone else will make the connections I missed? Let me know in the comments!
And as always, keep reading.