Hold on to your hats, dear readers, because I'm about to reveal centuries-old Elvish (Elven?) secrets to you. Well, one at least: how to make Lembas Bread.
Lembas Bread, if you're a reader (or watcher, I don't judge) of Lord of the Rings, is the Elvish equivalent of hardtack (also known as cram in the LOTR-verse), except it tastes amazing and can keep a grown man fed for days on just a tiny bit.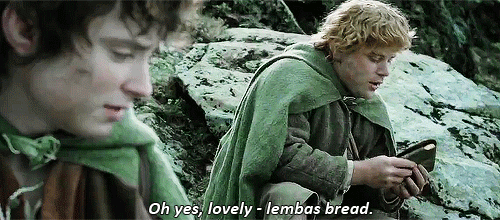 I happened upon this recipe for Lembas Bread on Facebook, and I'm going to share the recipe that I used here with you. I realize that there are several different versions of Lembas Bread out there, but I think this is by and far the simplest one that I've seen. (That's the main reason I chose this recipe to use.)
Recipe:
2.5 cups of all-purpose flour
1 tbsp baking powder
1/4 tsp salt
1/2 cup butter
1/3 cup brown sugar
1 tsp cinnamon
1/2 tsp honey
2/3 cup heavy whipping cream
1/2 tsp vanilla
Preheat oven to 425*F. Mix the flour, baking powder, and salt into a large bowl. Add the butter and mix until it's well combined/fine granules (easiest way is with an electric mixer). Add the sugar and cinnamon & mix thoroughly.
Add the cream, honey, and vanilla and stir with a fork until a nice, thick dough forms
Roll the dough out about 1/2 inch in thickness. Cut out 3-inch squares and transfer the dough to a cookie sheet. Criss-cross each square from corner to corner with a knife (but not all the way through).
Bake for about 12 minutes or until golden brown.
Let cool completely before eating. For more flavor, add more cinnamon/honey/other spices.
My Thoughts:
Sorry I don't have any pictures. I'm hoping to go back and add them at some point in time, to match the rest of my recipe reviews, but the main thing is, I'm very lazy.
Holy cow. This stuff is actually really good. It is a little dry, and it could use a bit more cinnamon (or honey! or both!) in it, but overall it tastes very nice, like a slightly warmer sugar cookie (does that make sense?).
I used self-rising flour instead of all-purpose flour, and I used half & half instead of heavy whipping cream, because that's what I had in the fridge already.
The dough was a little hard to roll out, because it was very sticky. I ended up adding a lot more flour to it once I had turned it out in order to keep it from sticking to the parchment paper I was using to protect my counter. It baked just like the directions said it would, and I am very pleased with how it turned out.
The best part is, this stuff does exactly what it says it does. I ate a piece and a half for breakfast one morning (at 6:30 a.m., mind you) and I didn't feel even a pinch of hunger until almost noon. That is impressive, considering that with my normal breakfast (cereal or frozen waffles), I'm starving by 10:00 or earlier.
The size of the squares is huge, though, and if I make this again (which, of course I will), I'll be cutting those squares down a little smaller.
This is not really something you can binge-eat, and it's easy to get full off of just one or two of the bigger squares. I didn't have any leaves to wrap it in, but apparently banana leaves are great and non-toxic for this purpose (no idea where I'd find banana leaves in Alabama, but it's a nice thought.)
If I have a LOTR marathon at any point in time, I'll be making this for sure.
Pros:
easy to make
actually keeps you full
it's LOTR, y'all — that's all you need to know
Cons:
dough is very sticky
could use a tinge bit more sweetness
I'd give this recipe an easy 4/5 stars. I'm going to be messing around with it and seeing what all I can do with it in the future, of course, just to see how much better I can make it. I'm even contemplating trying multiple Lembas Bread recipes in order to figure out which one is the best. (I've got one that's in my Geeky Chef cookbook, which calls for things like protein powder and nuts, so I'm not sure about that one, but it sounds like it really will keep me full, too.)
What do you think? Will you be trying this? Let me know in the comments!
And as always, keep reading.