Okay, I haven't really participated in a lot of T5T topics this month. Many of them I haven't had material for, and others I've started writing and wound up realizing that I only had one thing to put on it. Shanah @ Bionic Book Worm has come up with something I haven't really thought about, though, and now I'm here to share my thoughts with you.
I'm a sucker for a map, but I've never really thought about ones that I would claim as my top five. I had to do a lot of searching (and trying to remember which of the books I loved even had maps!), but I now present to you my Top 5 List of Bookish Maps! (I also decided I wasn't going to make these maps small enough to be put to the sides of my explanations, so enjoy these beautiful maps!)
The Phantom Tollbooth  by Norton Juster
Phantom Tollbooth continues to hold the top spot for my favorite kids' novel ever. The map included, while not full-color as described in the novel itself, is still stunning. It may not be as detailed as some of the other maps in fantasy or fiction novels, but it is certainly something that makes you think. Plus, you've got the Sea of Knowledge next to the Mountains of Ignorance. You can jump to Conclusions. You can get lost in the Doldrums. And, there's also "More Sea." Brilliant.
A Song of Ice & Fire by George RR Martin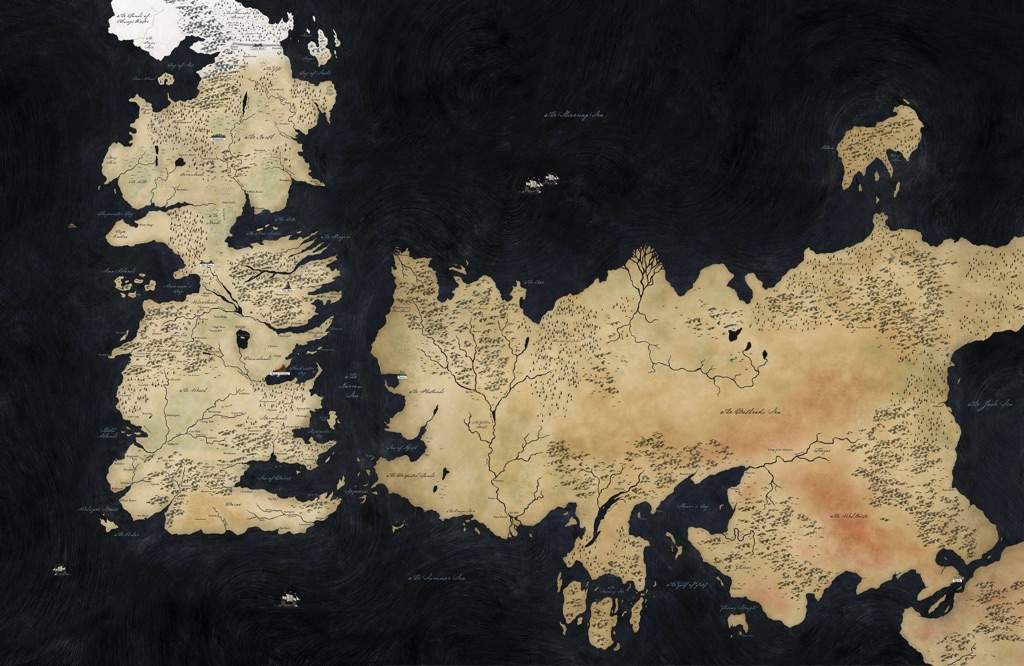 This book series may be one of the most complicated ones I've ever read. It certainly has the largest number of characters. This map is wonderful, not only because there's a fully interactive version online, but also because the TV show mainly sticks to the map, too, and the opening credits for Game of Thrones is amazing.
The Chronicles of Narnia by CS Lewis
(You're going to have to see the full version here, because it's freaking gorgeous.) It's so colorful, and you can feel the magic radiating from this map. You might have to look a little harder to see all of the details. For most people who only know The Lion, The Witch, & The Wardrobe, they are easily able to recognize the main locations from that story. Those of us who have read even further can see even more hidden gems, like the Dawn Treader floating gently through the Great Eastern Ocean. It's beautiful and I would love to have this one on my wall.
Leviathan by Scott Westerfeld
It may not be as detailed as the other maps, but the difference in the Allies & the Axis powers in World War I are extremely well done. If you're unsure as to what Westerfeld's Leviathan is about, it's essentially about the Prince of the Hapsburg Empire (heir to the Austrian-Hungarian throne), whose parents (aka Archduke Ferdinand and his wife) are murdered. The Axis powers are renamed the Clankers, who depend more on machinery, etc., to do their bidding. The Allies are the Darwinists, who depend on genetically modified animals to do theirs. The Prince has to hide himself away and let nobody in on his secret past. In the meantime, there's a girl who has disguised herself as a boy and sneaked onto an airship. The two are set on a crash course that might just change the course of history.
Oh, and Tesla makes an appearance.
The Dragonriders of Pern  by Anne McCaffrey
Again, it might not be the most detailed map out there, but I read and re-read Dragon Flight (I think that's the name?) by McCaffrey when I was younger. I never got around to any of the other Pern books, and I've had a lot of people tell me that they're not worth it. (Any input on this?) The map might not be super helpful, but it does let you know where things are in relation to each other. Also, if there's a Southern and  a Western sea, what's to the north of the main continent? The easiest way to get around is on the back of a dragon, and now I can really see that it's true, especially due to all of the mountains that are present in this world.
I did it! I got through the entire post without using the map of Middle Earth! I deserve points for this one.
What do you think of these maps? Do you have others that you're fond of, or would you die to visit one of these places? Let me know in the comments!
And as always, keep reading.