First Impression Friday is a weekly series started by JW Martin, and I haven't been able to participate in a few weeks because life has been more than a little crazy. Seriously, who has time to think around the holidays, much less blog?
This week, I'm previewing a book that I've actually attempted to start maybe six or seven times, but I'm never able to get past the first chapter. What's that  book, you ask? Bridge of Clay by Markus Zusak.
Wait – what? A new book by my favorite author (that I bought on release day) that I haven't finished yet? Yes, sadly, it's true. I just can't get into this book.
The breathtaking story of five brothers who bring each other up in a world run by their own rules. As the Dunbar boys love and fight and learn to reckon with the adult world, they discover the moving secret behind their father's disappearance. 

At the center of the Dunbar family is Clay, a boy who will build a bridge—for his family, for his past, for greatness, for his sins, for a miracle. 

The question is, how far is Clay willing to go? And how much can he overcome?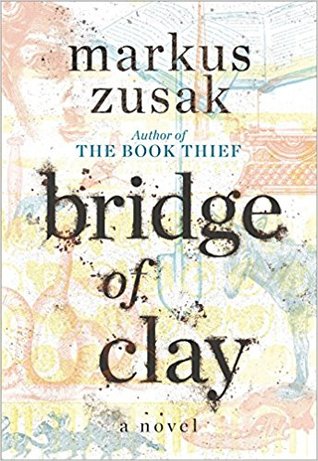 I was so excited for this book. I pre-ordered it the very moment it was announced, and patiently waited for it to arrive at my parents' house. The Book Thief is my favorite book of all time, so of course Markus Zusak would be able to do something amazing with his next book, too, right?
I've opened this book several times and just put it right back down. It's been sitting on my desk at work for months now, taunting me. It knows that I haven't finished it yet, and it knows that I may never finish it. It's on my list of books to read, but I keep finding other books that are much more interesting, which is really disheartening. Maybe it's something I should listen to instead, so I might end up trying to find the audiobook version of the book. Or maybe I should just skip the first chapter next time I open this book.
I want to love this, but I'm not sure if I'm ever going to finish it.
Have you read Bridge of Clay? Are my fears unfounded? Let me know in the comments!
And as always, keep reading.