At this point, I'm not even sure what day of the week it is. Thank goodness for my WordPress feed reminding me that it's Tuesday, because right now it just feels like Monday. (Case in point: I did my Monday exercises today since I skipped them yesterday, even though I've got my yoga class tonight.)
This week's Top 5 Tuesday (brought to you, as always, by Shanah @ Bionic Book Worm) deals with a somewhat…controversial topic: books being turned into movies. I'm sure we've all had that moment where you can physically feel your heart sink: when you read that one of your favorite books (or series) is being turned into a movie. Case in point: Artemis Fowl, one of my top-favorite book series as a middle schooler, is being turned into a movie, and it's going to be awful. (They've already erased the accomplishments of one character by gender-bending another, and it's infuriating.) Another one? The Lost Years of Merlin. I haven't heard much about this one yet, but the author (T. A. Barron!) is apparently monitoring the movie/script very closely, so here's hoping they actually release five movies instead of trying to cram all five books into one.
So, you can see how I approached this topic. I was nervous, because we all know that studios take their own interpretation of books (sometimes it's like they never even read the source material, or just looked briefly at the SparkNotes). I'm not expecting a 100% book-accurate movie on the ones I list below; I just want something.
Severance by Ling Ma
I received this book as part of a free trial for the Book of the Month club (where they forgot to ask for my card information — so no auto-renews for me! Ha!) back in December. I promptly put it away on a shelf and forgot about it, until I started reading through my "To-Read" shelf this year and found it. I was honestly surprised at how good it was (although the lack of quotation marks is a little disorienting at first). It's the slow decay of civilization in 2011, so it's almost a decade behind our modern lives. But who's to say the world really didn't end in 2011?
A Darker Shade of Magic by VE Schwab
This is one of my favorite new discoveries, and I think it would be awesome to see it on the screen. However, I think putting it up as a TV series instead (Hulu, Netflix, or even HBO!) might be even better. It would let you really get deeper into the characters and be able to show more of each book. I know it's probably bad, but I'd like to see an Alucard side plot or even a spinoff, showing us how the pirate captain spends his days!
The Rules of Magic by Alice Hoffman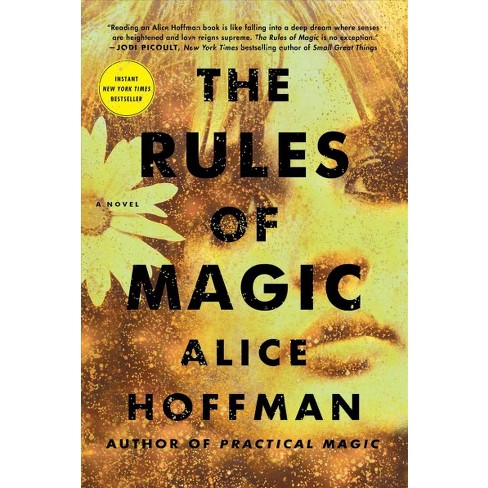 So Practical Magic was made into a move in the 90s, and while I haven't seen it, I'd be super interested to see one done for The Rules of Magic. There were so many twists and turns in this book that I felt like I couldn't catch my breath near the end. So many terrible things happen to the siblings, and yet if you've read the sequel (for me, I read Practical Magic after The Rules of Magic, even though it came out first), you know how things end up. There are a few discrepancies between the two books, but The Rules of Magic is so good that I can forgive them.
The Android's Dream by John Scalzi
I feel like I just keep repeating the same books week in and week out on these Top 5 Tuesday lists, but this is one that I would really love to see a movie made out of! (That sentence was totally not grammatically correct.) There's the heist portion, the spy portion, the "we've got to run away before the bad guys kill us" portion — there are so many good things about this book! In fact, I really need to go back and re-read this one, because it's been a good while. I guess I should go ahead and add it to my TBR shelf, so I've got a better idea of its position in the queue.
Peter & the Starcatchers by Dave Barry & Ridley Pearson
This is a throwback to elementary school (I think??). It's the "true" story of Peter Pan — taking you through the backstory of stardust, where Tinkerbell came from, and how Captain Hook came to have his hook. It's truly fascinating, and since it's already published by a Disney publishing house, I think it'd be great to see Disney take a crack at this. I'm sure they won't, though, considering how beloved the original Disney Peter Pan film is. Still, one can dream. I only read (and only own) the first three books in this series, but I know there's a fourth (and maybe a fifth?), so this could easily become a blockbuster for several different years.
One of these days, I'm sure I'll wake up to an announcement that Disney or Marvel or someone has adapted one of my favorite books as a movie, and I'll be stuck with the agonizing choice of "Do I see it or do I not?" Because while these are some of my favorite books, I don't know how well they would translate to the screen.
What about you? Do you have any favorites you'd like to see on screen? Let me know in the comments!
And as always, keep reading.