A few months ago, I received a very interesting email from Book Crate. "Try one month on us free!" it said, and I jumped on it. It didn't even require my credit card information (amateurs!). Severance was the book I chose (December 2018), and when it arrived I put it on the shelf and didn't pay attention to it for almost a month. (Also, I took off the book jacket when I brought it to work — I love the embossed "Book of the Month" emblem in the corner! It almost makes me want to subscribe…)
An offbeat office novel turns apocalyptic satire as a young woman transforms from orphan to worker bee to survivor

Candace Chen, a millennial drone self-sequestered in a Manhattan office tower, is devoted to routine. With the recent passing of her Chinese immigrant parents, she's had her fill of uncertainty. She's content just to carry on: She goes to work, troubleshoots the teen-targeted Gemstone Bible, watches movies in a Greenpoint basement with her boyfriend.

So Candace barely notices when a plague of biblical proportions sweeps New York. Then Shen Fever spreads. Families flee. Companies halt operations. The subways squeak to a halt. Her bosses enlist her as part of a dwindling skeleton crew with a big end-date payoff. Soon entirely alone, still unfevered, she photographs the eerie, abandoned city as the anonymous blogger NY Ghost.

Candace won't be able to make it on her own forever, though. Enter a group of survivors, led by the power-hungry IT tech Bob. They're traveling to a place called the Facility, where, Bob promises, they will have everything they need to start society anew. But Candace is carrying a secret she knows Bob will exploit. Should she escape from her rescuers?

A send-up and takedown of the rituals, routines, and missed opportunities of contemporary life, Ling Ma's Severance is a moving family story, a quirky coming-of-adulthood tale, and a hilarious, deadpan satire. Most important, it's a heartfelt tribute to the connections that drive us to do more than survive.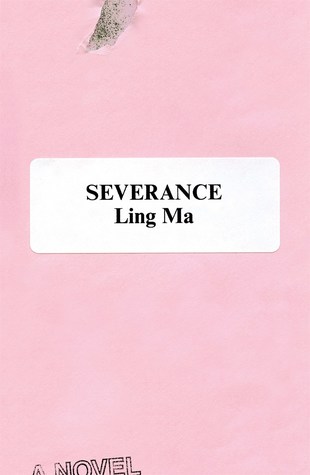 Severance resonates with me for one main reason: the main character is my age and she is going through all of the same struggles that I am going through. I know there are other books out there that have 24-year-old protagonists, but this one seems different. This one is struggling with her work life. This one is trying to figure out where she belongs in the world. And most of all, this one has to learn to survive.
Okay, so I'm mostly joking. I've already gone through my survival phase, but Severance asks the question of, "What would happen if the apocalypse was a slow burn instead of something instant?" What if the fever slowly creeps up on you instead of zombies flooding the streets from every direction, instead of an asteroid hurtling towards the earth, instead of, instead of, instead of…
I really like Ling Ma's writing style, although the lack of quotation marks when someone speaks took a minute to get used to. The prose is straightforward, nothing super flowery. It's the writing of a no-nonsense office worker. But it's sticking with me. I'm hoping on a solid 4 star or above read out of this one, and I'm mostly trying to figure out how I'll make an interesting #bookstagram post with this cover.
I've seen this novel on several reviews recently, and I have been so excited to finally get to it. Here's hoping it's great all the way through!
And as always, keep reading.