Welcome to this week's DOUBLE FEATURE, featuring Top 5 Tuesday topics from both last week and this week! As always, this meme is hosted by Shanah @ Bionic Book Worm, and features me procrastinating like nobody's business, because this Ravenclaw segment was actually supposed to come out last week! That means I had to crack down and think of ten different books this week, but I'm okay with that.
Now, what are those Ravenclaw traits, you ask?
They are analytical, intelligent, logical yet impractical, curious, inquisitive, creative, witty, wise, interested in understanding things, cynics, fond of  intellectual discussion, introspective, independent, wordy, and self entertaining. They observe rather than participate, are fond of learning for the sake of learning, and good at school (or really anything that they have an interest in!)
I can't believe I missed out on this one last week, and I'm doing my House a disservice. Yes, I am a Ravenclaw, and I have a clutch and a cardigan to show my love. However, I am missing a scarf and some house robes, so if you'd like to contribute to my delinquency, let me know…
The Radium Girls: The Dark Story of America's Shining Women by Kate Moore
I read this more than a year ago (man, has it really been that long?) and loved every bit of it. It's a section of history that most people don't know about, and yet it's a part of history that everyone should know about, considering that it led to the majority of the workplace safety regulations that we have in place today. Radium, of course, is radioactive, and yet it was used to make watch faces glow in the early 1900s, and women would lick the paint brushes to get them pointed, and they would also paint their skin with the radium to make themselves glow. It's no wonder that the vast majority of dial-painters died gruesome deaths, most of them riddled with cancer, but their bravery in telling their story and bringing about one of the first class-action lawsuits makes their place in history an important one. (I feel like this fits the "learning for the sake of learning" category, because I absolutely love finding out new things about history!)
Matilda by Roald Dahl
Look, y'all. If there has ever been a book that signifies a Ravenclaw, it would be Matilda. I'm going to assume that the vast majority of y'all have seen the movie rather than reading the book, but the same headstrong girl is in both versions. Also, who hasn't wanted to have Matilda's powers? She was basically a witch herself, but she didn't need a wand. An inquisitive young girl, wise beyond her years due to her tragic upbringing, who learns for the sake of learning. How could you not love Matilda? Or, really, any of Roald Dahl's books, but that's another matter.
My Grandmother Asked Me to Tell You She's Sorry by Fredrik Backman
I was not prepared for this book. Not one bit. I went into it expecting some sort of lighthearted adventure (in fact, if I were to start categorizing books by Hogwarts House based on what I thought when I first picked them up, I would have put this one into Hufflepuff in the beginning), but I got something much deeper out of it. I think it's the way the book is narrated, which is third-person, yes, but it's limited, mostly told through the perspective of Elsa, a seven-year-old who has just lost her grandmother, who (she thought) was the only person who truly understood her. What followed was a twisted and connected story that I never would have dreamed of. I attempted to read A Man Called Ove by the same author and found out after a few chapters that I hated it, so this was the next one I picked up. And I am so very glad I did.
The Bloody Chamber and Other Stories by Angela Carter
I have a thing for fairy tales. Most people have never opened a volume of Grimm's Fairy Tales, much less Hans Christen Anderson's, but let me tell you: Disney polishes these things until they shine. There's much less maiming (Cinderella), much less rape (Sleeping Beauty), and much less murder (…pretty much every other story) in the Disney versions. If you want to keep your kids from sleeping, just find yourself some Grimm's and let the stories do the work for you. What I like about Carter's retellings, though, is that it has a distinct feminist twist to it. (I can hear the groans already.) The tales don't end the way you think they will, and instead of the women ending up horribly mangled (in that "Don't go outside without a male escort!" moral), they usually end up on top. Most of the time, it's a woman who ends up saving someone else, too. I realize I am doing a horrible job of selling this collection, but really, it's worth picking up, especially if you have even the slightest interest in fairy tales.
The Book Thief by Markus Zusak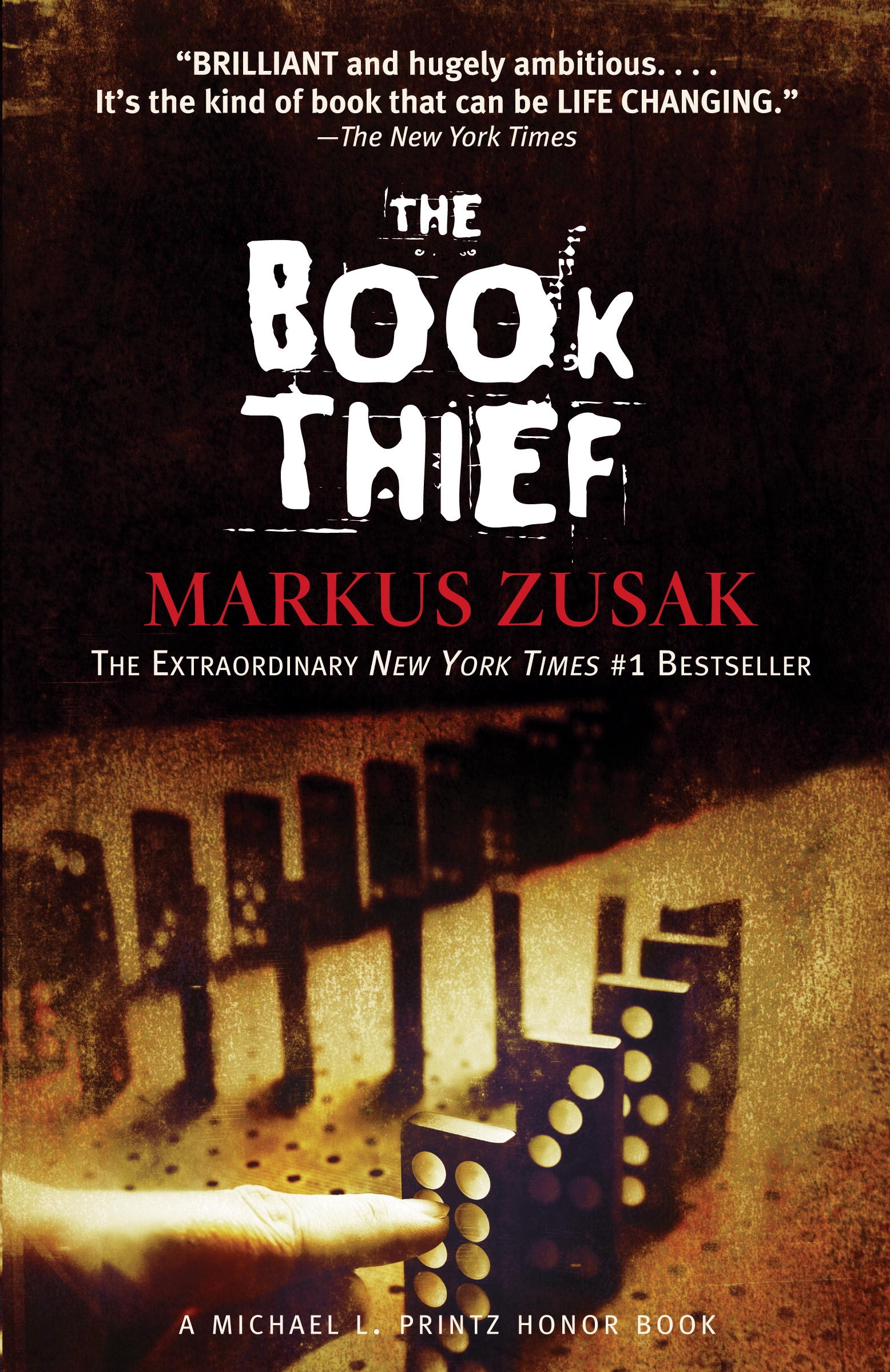 I'm sure everyone wondered where this story was last week, but I knew I had to wait for Ravenclaw to give her her due. She is someone who finds comfort in the written word, which was me for the longest time when I was younger (considering how often we moved, as a military family), and she is someone who wants to find the words to write them herself. I may be slowly pulling myself away from singing the praises of The Book Thief, since I discovered the GoodReads review section of the book (and found myself agreeing with some points!), but I still find it a great story for a Ravenclaw book list.
What do you think? Have I completely mis-categorized these books? Do you have something else to add to my list? Let me know in the comments!
And as always, keep reading.