Welcome back to First Impression Friday, an installment I haven't done in a while because I am a slacker. That's okay, though, because I've also read five books in the past week and I'm hoping not to slow down anytime soon.
This week's preview is for The Hazel Wood. I remember being super intrigued by the cover when the book was first announced a year or more ago (honestly, I can't keep track of time any more), but I never got around to reading it. Some of the reviews, honestly, kept me back from it as well.
I ran across it in the bargain section at Books-a-Million a few weeks ago for $3, and decided that was a decent enough trade-off for a book I may or may not enjoy.
Seventeen-year-old Alice and her mother have spent most of Alice's life on the road, always a step ahead of the uncanny bad luck biting at their heels. But when Alice's grandmother, the reclusive author of a cult-classic book of pitch-dark fairy tales, dies alone on her estate, the Hazel Wood, Alice learns how bad her luck can really get: her mother is stolen away―by a figure who claims to come from the Hinterland, the cruel supernatural world where her grandmother's stories are set. Alice's only lead is the message her mother left behind: "Stay away from the Hazel Wood."

Alice has long steered clear of her grandmother's cultish fans. But now she has no choice but to ally with classmate Ellery Finch, a Hinterland superfan who may have his own reasons for wanting to help her. To retrieve her mother, Alice must venture first to the Hazel Wood, then into the world where her grandmother's tales began―and where she might find out how her own story went so wrong.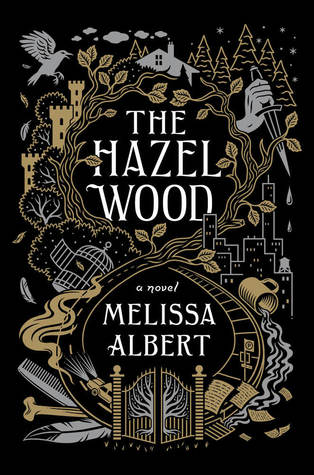 Right away, I could tell that I was going to have some problems with Alice. I think I'm becoming too old for Young Adult fiction — I'm starting to side with the parents on things, or I think that the main character is too young to be going off on whatever quest they're going on, or I think the main character is just too plain stupid to survive. I think that I might put Alice in the third category so far. (I'm about halfway through the book as I'm writing this, so honestly probably a little too far along to accurately be writing this "First Impression" post.)
Alice is your stereotypical  bratty teenager who thinks that she can do whatever she wants with no consequences, and who fights with her mother because she doesn't understand what her mother has gone through to get this far in life. She doesn't even call her "Mom," but instead uses "Ella," her mom's nickname. I could tell that this is a teen trying to be "edgy" and "cool," but honestly I'm ready to read about healthy family relationships. Although that probably doesn't make for a very interesting book.
I know something terrible is going to happen near the end of the book, and Ellery Finch is most likely going to wind up dead, but I guess time will tell.
This book has a 3.6 star rating on GoodReads as of the writing of this post, and I can feel myself wavering between that 3/4 star rating myself. I guess time will tell. Also, I had no idea that this was going to be the first in a series until I looked it up on GoodReads. I might have trapped myself into more of a time commitment than I thought.
Have you read The Hazel Wood? Do you think I'm getting too old for YA fiction? Let me know in the comments!
And as always, keep reading.